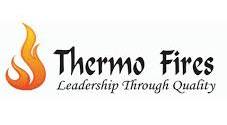 Established in 2003, as proof of our pride and belief in our products, we are the only company to give a 20 years warranty on workmanship.
A feature of all Thermo fireplaces are that all standard wood-burning grate baskets has a loose replaceable grid. This makes it much cheaper when replacement becomes necessary. With the choice of adding a glass door/s, your fireplace will burn more efficiently, using much less wood while radiating more heat into your room.
All units include a 3.6m fluekit and cowl and are available in various sizes and a choice of mild steel, 3cr12 or 304 stainless steel.
The Thermo Built-In Fireplace range has built-in convection, giving you a 2-way heating system - radiation and convection. It will add to the value of your home and the ambiance of your room, while making your home cosy enough to curl up with a magazine. All units come with the option of a firescreen or glass door/s. Units larger than 850mm have double-doors.
Available in 6 standard sizes: 600mm, 700mm, 850mm, 1050mm, 1200mm and1500mm.
Custom-made fireplaces for a unique You
We realise that everyone is unique, and some of us are just more so. If this is you, you've come to the right place. Bring us a picture or a scribbled drawing on a napkin of what you have in mind, and we will custom manufacture a fireplace as unique as you are.
We are one of only a few companies that specialize in designer units. Speak to one of our experienced salesmen who can guide you through the process.
All units are available in stainless steel, 3CR12, mild steel and a combination of materials.
Custom & Insert Built-in fireplaces
Built-in Fireplaces can be made to fit a specific look, area or brick fireplace. We can manufacture wood-burning fireplaces (with both a traditional or as a vented and vent-free boxes for your bio-fuel or gas burner. All built-in fireplaces are available with firescreens or glass