We Make the Difference!
From its humble beginnings as a one-man business, operating from a small factory in Worcester in 1985, Home Fires has developed into a well-established organization and a market leader in the development of fireplace and braai products. The upgrading of production machinery and equipment and regular injections of operating capital has facilitated penetration into the export market.
The built in braais from Home Fires provide home entertainment at it's best. The units may be installed indoors or outdoors and guarantee completely smoke-free use. Thus eliminating the irritating smoke always associated with braais. The 15-year guarantee against faulty workmanship or material, along with Home Fires' after sales service will give you the peace of mind that you deserve.
Super De Luxe Built In Braai
Spit Super De Luxe Built-In Braai
Super De Luxe Freestanding Braais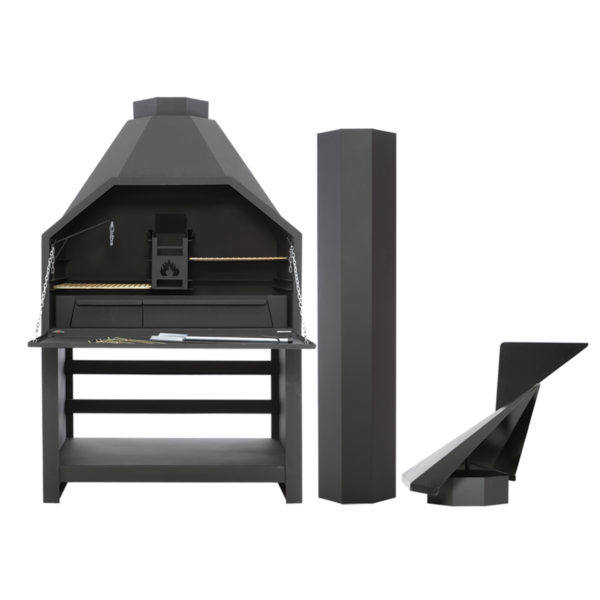 Unit Includes: Box stand, 2m flue pipe, ashpan, 2x half grids, ember maker, potjieholder, bottom door, ash drawer, spade, poker, grid lifters, rotating cowl base & top, esc.plate, insulation material and touch-up paint.
All models are available in 3CR12 or 304 stainless steel.
*Standard 800 Unit does not include an ember maker but comes with a full length grid.
Home fires offer a 1200 and 1500 Combo unit, which combines both gas and charcoal/wood braaiing facilities within the same braai box. The Home fires Combo Built-In Braai unit combines the well-known enjoyable Home Fires charcoal or wood braai with the convenience of a gas griller by braaiing within minutes for that quick braai after work or Sunday morning brunch. The Combo unit comes standard with two separate doors that close off the opening of the unit when not in use.
The charcoal braai side has ample braaiing space and the Stainless Steel Gas Grill is designed with cast iron flat burners and flame-tamer vaporizer plates on top to offer a consistent heat distribution over the grilling surface, with minimal flare-ups. With some of the Stainless Steel grillers an optional solid cast iron dual sided plate can be inserted into the space of one of the stainless steel grids to enable the user to cook more delicate and smaller foods, such as fish and vegetables. Best of all, it lets you cook a great breakfast or brunch in your gas braai.
Barbecues are not only for summer - if you have a Home Fires Gas Braai then anytime is a good time! The convenience and control of a Home Fires Gas Braai will mean more frequent use. Many more people are now enjoying outside dining at home thanks to the arrival of the Home fires Gas Braais. They're quick, convenient and simple to use. The patio has become an extension of the dining room and, because they take just a few minutes to prepare, braais become quick and easy adventures.
At the heart of the cooking system of the gas griller is the flame tamer plate. The flame tamer is a perforated plate, which like lava rocks catches the meat juices just under the grill, instantly vaporizes the drippings and sends char-grilled flavour back through the meat. The advantage of the flame tamer is that this hotter system practically eliminates annoying flare-ups. With the flame tamer there are no messy rocks to flip over, it's easier to clean, it gives optimum heat distribution and you retain the full, authentic braai flavour. The safety, efficiency and versatility derived from cooking with gas makes the Home Fires offer of a Gas Braai the preferred method of outdoor meal preparation.
FLAT TOP GRILLER
2, 3, 4 and 5 burner Stainless Steel Flat top Grillers
The Stainless Steel Gas Flat top Griller is standard equipped with round bar stainless steel grids. For some of the models, an optional cast iron griddle can be added to allow you a stir-fry and grill at the same time. These models feature 430 stainless, vaporizer plates, cast iron burners, piezo ignition, a Stainless steel dust cover and a Stainless steel drip tray.
A flat top gas griller can also be used totally on it's own as a freestanding counter top gas braai or it can be inserted into an existing brick built opening.
The models available are: 9902 (2 burner), 9903 (3 burner, 500mm deep), 183 (3 burner, 600mm deep), 9904 (4 burner), 9905 (5 burner).
A Table braai can also be used totally on it's own as a freestanding counter top braai or it can be inserted into an existing brick built opening. This version comes in model 800, 1000 and 1200. An ember maker is an additional standard issue item. Model 1200 is standard with two half grids.